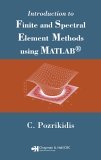 Introduction to Finite and Spectral Element Methods
using Matlab
C Pozrikidis
2005
Taylor & Francis/CRC
Publisher | Amazon | Barnes & Noble | Errata
Why this book?
Several hundred books on finite element methods are available. This book is unique in that:
Finite and element and spectral element methods are discussed.
The methods are developed in the broad context of ordinary and partial differential equations.
Applications and implentations are discussed for Laplace, Helmholtz, Stokes, Navier-Stokes, elasticity, structural mechanics and other problems.
Emphasis is placed on essential algorithms and computer implementation.
Practical computational experience gained simultaneously thanks to the FSELIB library--a free library of MATLAB functions and codes.
Self-contained grid-generation modules are provided.
A concise MATLAB primer is given in an Appendix.
Matlab Programs
This book is accompanied by the software library
FSELIB